The Early Days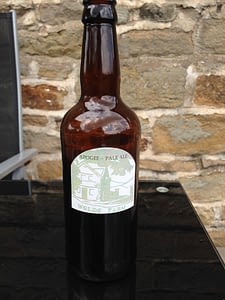 In November 2015, following thirty years experience as a homebrewer, Brewery Director Rob, decided to take the leap and open Matlock Wolds Farm Brewery – a microbrewery nestling on the North side of the Derwent Valley.  Matlock Brewing Company Limited was incorporated about 6 months earlier than this and with the birth of Wolds Farm it flourished.
Operations began when some of our first beers were offered to our local beer shop for sampling. The very next day they became our first supplier of bottled beers. After a few weeks, Matlock & Dales CAMRA contacted us and we invited them for a tasting and inspection of our " brewery", which at the time had a capacity of a mere 50 litres and was housed in the utility room of our house!
Venturing into casks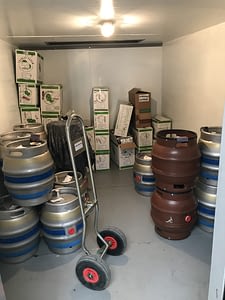 When exploring the world of cask ales, we submitted our first cask of Classic Porter into the Chesterfield Beer Festival 2015. We couldn't believe it when our CAMRA liaison officer phoned to say we'd won an award!
The cask side of the business soon took off, with many local pubs and bars now serving our ale. Our first cask ale customer was Twenty Ten Bar in Matlock and they still remain a regular customer and friend today.
Growth
In those early days, everything was done on a shoe string budget. We were thrilled when we were eventually able to upgrade to a small one brewers barrel plant in mid 2016. The brewery was housed in a garden shed and an ex-Post Office van was used for deliveries – reminiscent of Rob's previous job as an IT contractor for Royal Mail.
By early 2016 we realised we couldn't manage everything ourselves, so in May, our son Ed joined the team. Having inherited the passion for homebrewing, and combining this with his scientific education, he was the ideal candidate as brewery manager.
By early 2017, we realised we needed to upgrade again, this time to five brewers barrel plant. The brewery upped sticks again, this time to a large outbuilding on site. In need of insulation, we managed to source some insulation panels from a local sandwich factory; the cost- some beer. 
What the future holds
It's been a very steep learning curve for all of us, and immensely challenging at times , but hugely rewarding. The interest people have taken in our beers and business has been heart warming and we have met some interesting and lovely folk.
We now have many local suppliers and venues on board, and produce a core range of bottles and casks.
In June 2018, we'll be exhibiting our beers at the BBC Good Food Show in Birmingham alongside other Derbyshire brewers. If we'd been told a couple of years ago that we'd have an opportunity to showcase our products alongside theirs, we wouldn't have believed it!