With the evenings getting darker and the weather getting colder, our Classic Porter is the perfect rich, dark winter warmer to enjoy at this time of year.
This cake uses our Classic Porter , imparting its smokey, light roasted characteristics, improving the texture and adding moisture. We accompany the porter with chocolate and orange for a flavoursome and comforting final product.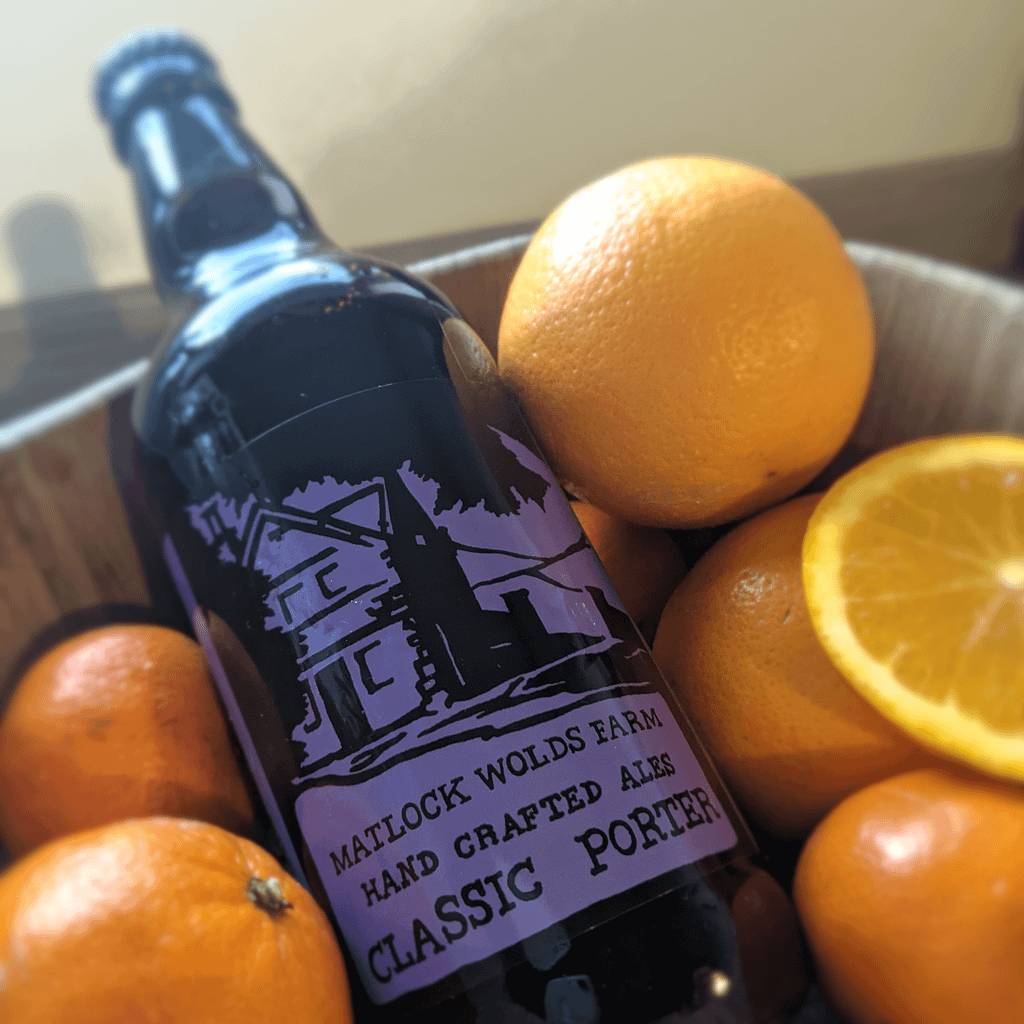 The traditional upside-down method creates a final cake topped with rich, caramelised orange slices.
Chocolate Orange Classic Porter Cake
A chocolate orange upside-down cake with Matlock Wolds Farm Classic Porter
Ingredients
2

oranges

100

ml

Matlock Wolds Farm Classic Porter

150

g

butter

+extra for greasing the cake tin

225

g

caster sugar

+extra for dusting

250

g

plain flour

3

eggs

2

tbsp

cocoa powder

2

tsp

bicarbonate of soda
Instructions
Zest and juice 1 of the oranges. Carefully slice the second orange into thin slices.

A serrated knife works best for this

Prepare your cake tin. We used a 20cm diameter round cake tin.

Add a small amount of butter to the base and place in the oven to melt. There should be enough to thinly coat the base and sides

It's better to use too much butter than too little here

Once the butter is melted, remove from the oven and spread around the pan evenly to grease

Sprinkle a small amount of sugar lightly upon the base of the cake tin

Arrange your sliced orange pieces around the base of the tray

Ensure there are no major overlaps to reduce any bitter sections

Prepare the cake batter:

Beat together the butter and sugar until light and fluffy

Add the eggs and beat into the butter and sugar mixture, followed by the reserved orange juice and zest

Gradually incorporate the flour and bicarbonate of soda, mixing thorougly

Slowly add the Classic Porter, mixing gently for a smooth batter

Pour the cake batter directly over the top of the oranges and gently shake until the mixture lays level

Place the cake tin in the centre of your oven and bake for 40 minutes

Test your cake is ready by inserting a thin cocktail stick, or similar, into the centre. If it comes out clean, your cake is baked through. Otherwise return it to the oven for further baking.

Once baking is complete, remove the cake tin from the oven and flip the pan upsidedown over a cooling rack. If the cake does not come out easily, gently run a knife alongside the edges to loosen.

Leave to stand until fully cooled before serving
Notes
Try this cake served with Crème Fraîche or a scoop of vanilla ice cream
We'd love to hear from you if you decided to give this recipe a go!